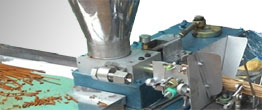 All brand made famous incense recipes possess their own heirloom, may say that is the secret blood dew that new generations have been. Perhaps obviously, they need to be kept confidential.
And more, above all, the burning desire, we hope to produce incense with the best quality products. To do that, there should be people with the vocational center, fervent passion with profession and always studies and research know-how as incense.
- Bamboo variety, foot tree to split as incense.
- Wood and downs, eucalyptus, cinnamon, Post, Pharmacy north, Adhesives, etc.
- Usage dyed red to foot incense, paper bag.
- Tools: incense making machines
- Towards incense and closing tags.
The first is to split the legs of incense. Foot incense made of bamboo, bamboo stuff should look how thick as bamboo reach such casualties and bamboo not too young nor too old.
Bamboo bought bring brief segments by sawing off sections incense sharp knife which split up into small bars, (soak in water and then dried for burning incense flowing). Then again he chopped off the legs of incense bars incense pins after exfoliation is pocketed or perforated corrugated tin in pieces and packed into wooden tables, as for claws bamboo, rattan for smooth and round. Today most of the foot is made of machine rounded incense.
Incense is thoroughly dry foot through sunshine, past many days simply bamboo dew to dry, brittle truth. That, when lit incense stick to burn them, burn incense to take foot, and enjoy it to bend without breaking a sudden horizontal.
After the drying step foot incense, workers will conduct coloring stage for "foot incense". To get the color for foot incense, workers will draw appropriate amounts of powder in boiling hot water (hot water as long as the color will be more fresh flavor sharp leg, and held long long), but the last leg incense a few times, then dried again. In the coloring stage, the workers also noted eliminate foot musty flavor signs (because of this flavor when tinted legs will not hold the desired color of the workers).
Bundles of bundles of incense foot ten thousand (ten thousand or 100 thousand) for sale. Incense leg chopped red dye finish bottom to plug into the bowl before his incense sticks of incense, or the later dyeing.
Composition sawdust are seemingly simple but workers still choose very carefully. Normally sawdust from the timber to foam, soft, good body, no termite, dry, low water absorption.
When processing must be used incense type the wood, eucalyptus wood, the taste drug, Acacia, etc. Small drunk to each separately, depending on what type of scent.
Incense powder to his see all the ingredients are brought powder coat dried, crushed to powder and drunk for small, smooth. Flour, powdered puree called outer coat to cover incense.
Incense powder coat is chosen according to the proportion formula secret places and mixed with cold water to form a moist dough enough. Then the machine, each toothpick inserted through the machine to trigger incense incense.
Very fragrant incense cones and sell expensive because a very high proportion of aromatic powder made from these materials and expensive, very carefully selected.
4. Towards incense and closing tags.
Wear sun dried before packing incense specifications of each unit.
GMEX.,JSC
All raw incense stick, incense stick best price
(+84) 946 02 6622; (+84) 98 115 8883(Whatsapp/Viber/Zalo)
Email: info@gmex.vn | sale@gmex.vn | salegmex@gmail.com